Vauhtitassun Lappi Vaibmus

G&G1 RNX RAX CD RS-O GS-O JS-E

Lappi!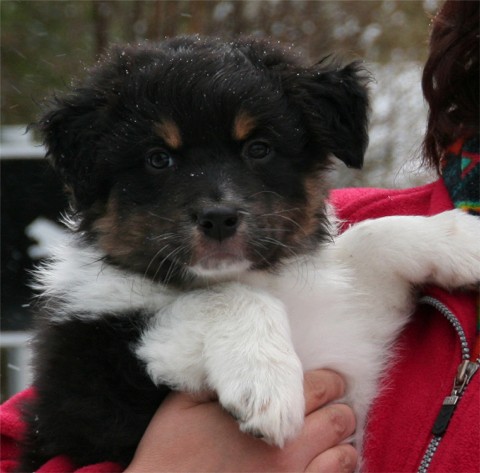 Geboortedatum: 20 maart 2006 / Date of birth: March 20th 2006

Kleur: black tri / Colour: black tri

Lange staart / Full tail

Heupen: HD A / Hips: HD A

Ogen/Eyes: diagnosed with distichiasis (1 hair) - otherwise clear

HSF4 heriditary cataract: normal/normal (free)

MDR1: +/- (carrier)

Gebit/Bite: volledig schaargebit + een P1 extra/full dentition + one extra P1, scissors bite

Ga naar de kraamkamer voor de eerste levensweken van Lappi.
Go to the
nursery
to see Lappi during his first weeks.
Take a look in Lappi's
diary
(sorry, in Dutch, but you can enjoy the pictures!)

Vauhtitassun ('Waugtietassoen') = speedy paws

Lappi Vaibmus ('Lappie Vaipmoes') = Lapland on my mind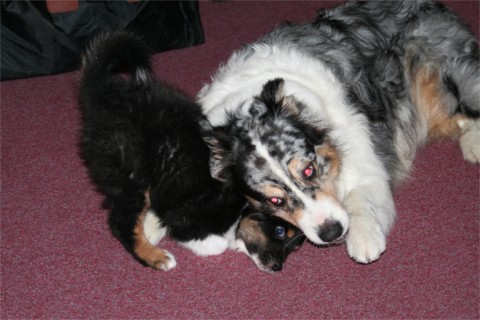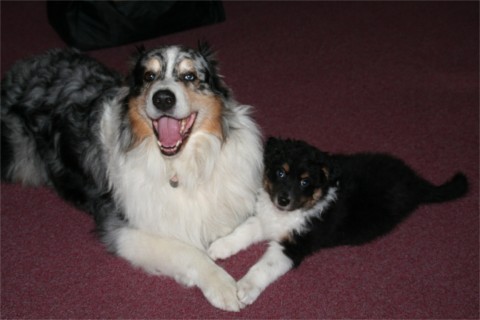 Scooter presenteert met trots zijn kleinzoon: de 8,5 weken oude Lappi.

Scooter proudly presents his grandson: 8,5 week old Lappi.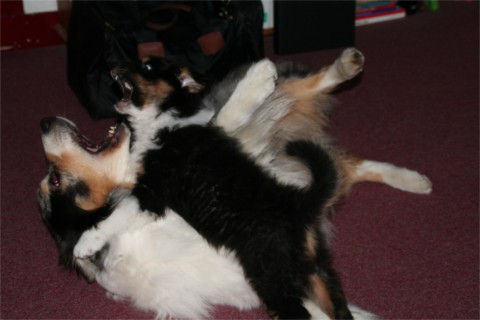 Een nieuw Aussievriendje

om mee te spelen!

A new Aussiefriend to play with!


Lappi leert tijdens zijn puppytraining

wat Finse woordjes.

During his puppy training, Lappi learns some Finnish words.

Lappi's woordenboekje / Lappi's dictionary:

Zit/sit: istu

Af/down: maahan

Staan/stand: seiso

Hier/come: tänne

Brave hond!/Good dog!: Hyvä koira!

Brave jongen/Attaboy!: Hyvä poika!

Volg/heel: seuraa

Blijf/stay: paikka

Apport/fetch: tuo

Lappi is een echte 'vauva' (oftewel baby, spreek uit: waawaa), zoals ze dat zo mooi in het Fins zeggen.

Lappi is a real 'vauva' (baby, say: wahwah), as the Fins say.

Fins hoeft niet altijd zo moeilijk te zijn. Soms zet je gewoon een i achter het woord dat je kent! :-)

Finnish language doesn't have to be that difficult. Sometimes you just put an i behind the word you know! :-)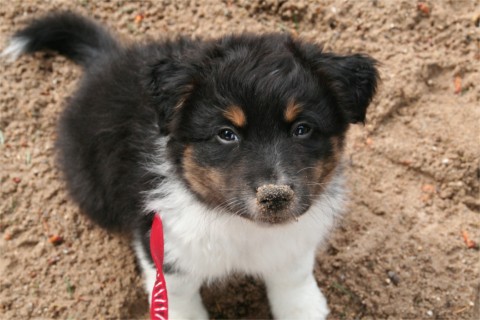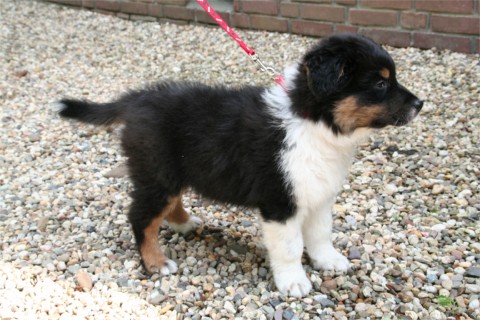 Lappi, bijna negen weken. / Lappi, almost nine weeks.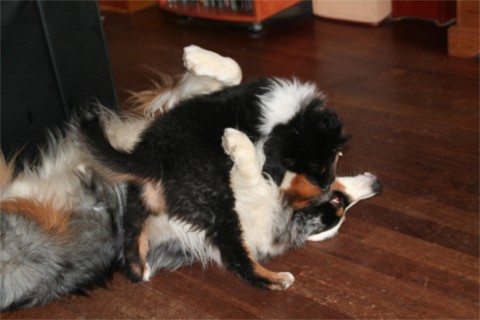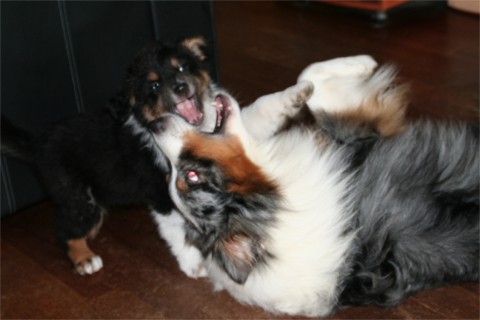 Tien weken oud: lekker dollen met pa Beetle.

Ten weeks old: having fun with dad Beetle.

Ik en mijn zandneus. / Me and my sandy nose.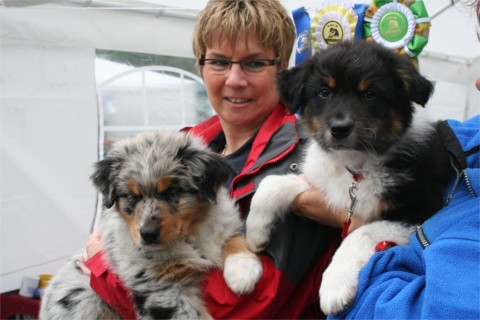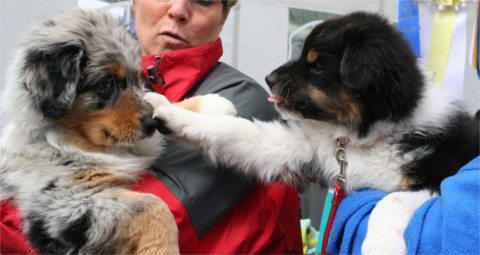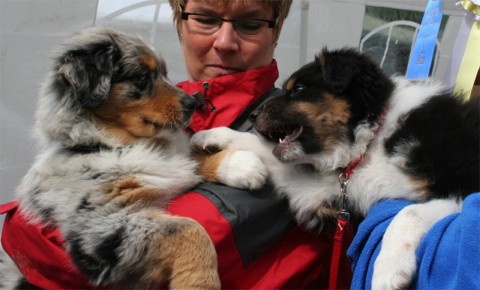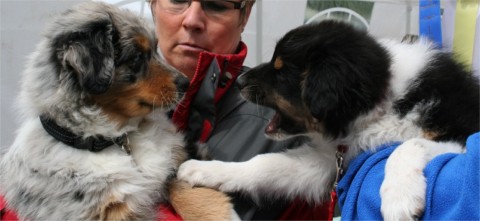 Lappi in gesprek met een andere Aussiepup op de clubshow in het Duitse Königswinter, eind mei 2006. (Dankjewel Heike Poole voor de foto's!)

Lappi talking to another Aussiepup at the clubshow in Königswinter, Germany, end of May 2006. (Thank you Heike Poole for the pictures!)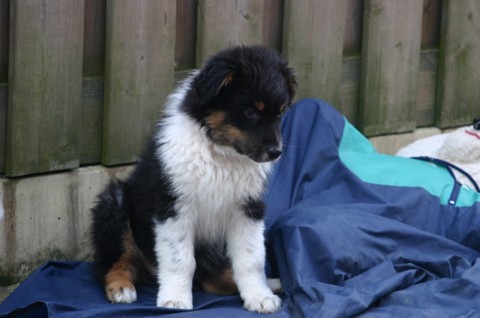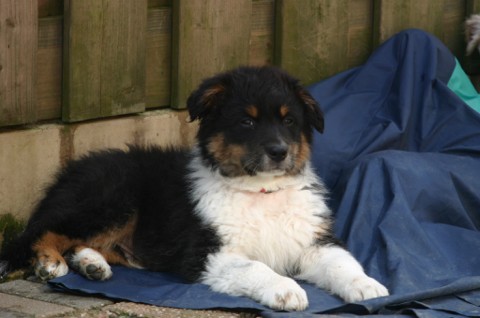 Je kunt zeggen dat Lappi een Aussie met karakter is :-)

(dankjewel Janine voor deze foto's)

You can say Lappi is an Aussie with personality :-)

(thank you Janine for these pics)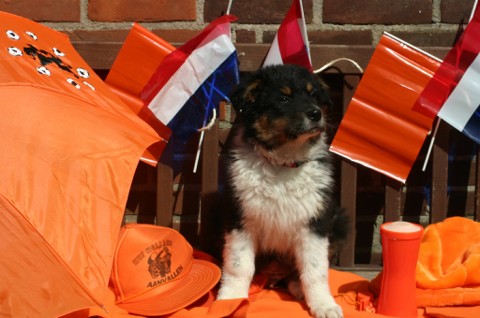 Lappi helemaal klaar voor het WK voetbal 2006

Lappi all ready for the World Championship soccer 2006


Lappi & family op 25 juni 2006: van links naar rechts vader Beetle, tante Sha-De, Lappi, opa Scooter en oma Phyrne.

Lappi & family at June 25th 2006: left to right dad Beetle, aunt Sha-De, Lappi, grandpa Scooter and grandma Phyrne.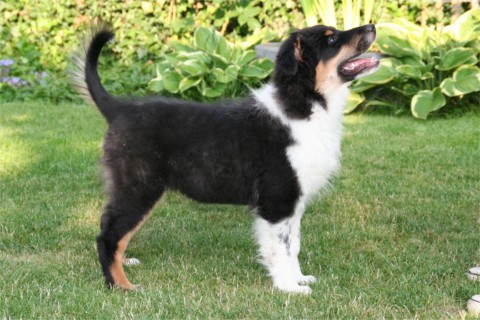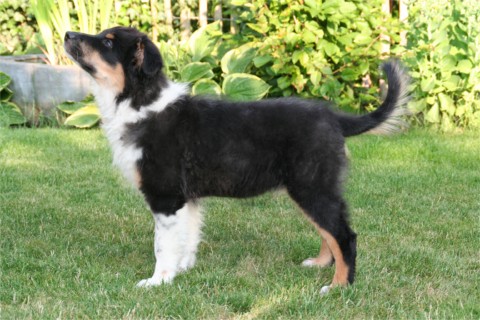 Lappi, 14 weken oud.

Lappi at 14 weeks of age.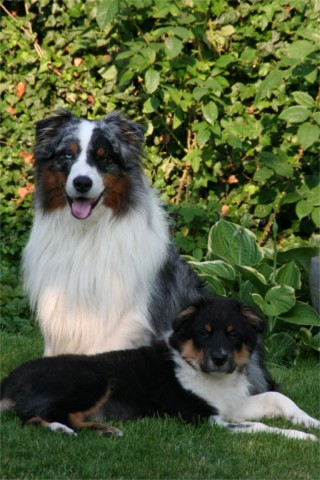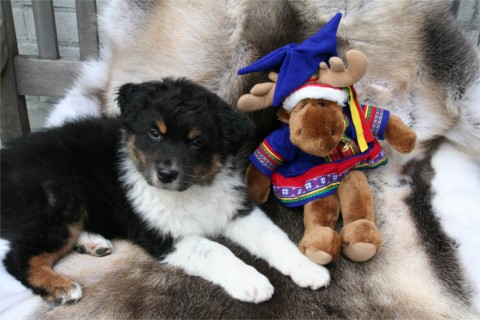 Ik en mijn rendier op ons rendierenvel.

Me and my reindeer on our reindeerskin.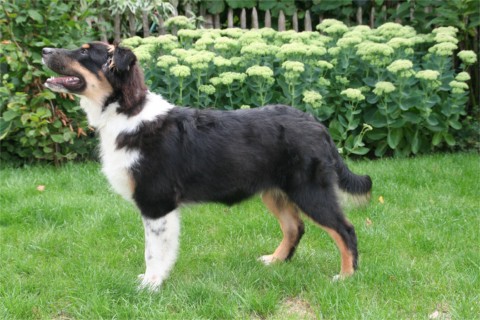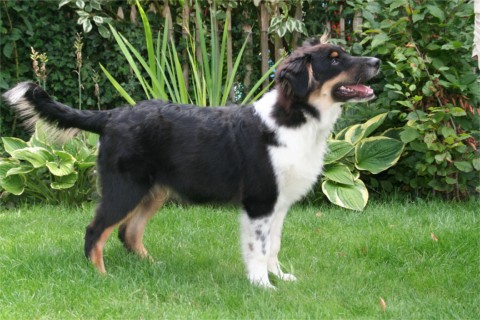 Lappi, 20 weken oud.

Lappi at 20 weeks of age.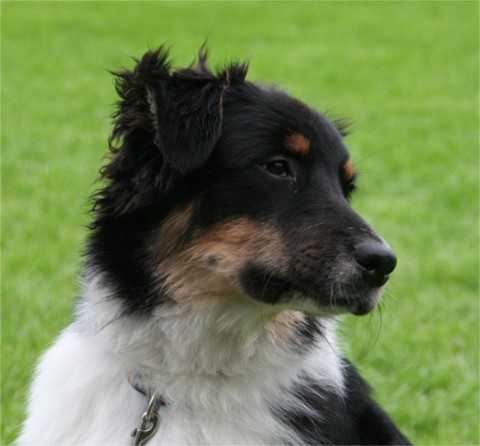 Kopstudie Lappi, bijna zes maanden.

Head study Lappi, almost six months old.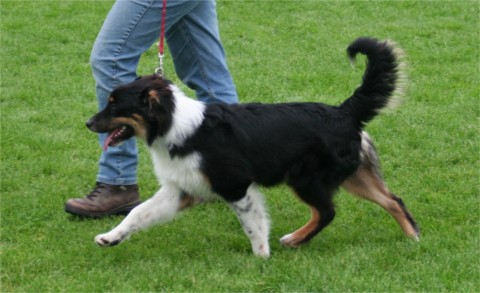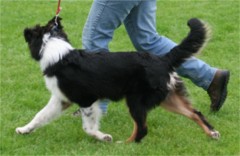 Op de loop, september 2006.

On the move, September 2006.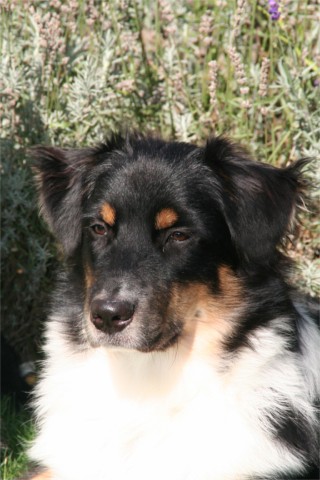 Kopstudie,

21 september 2006

Head study,

September 21 2006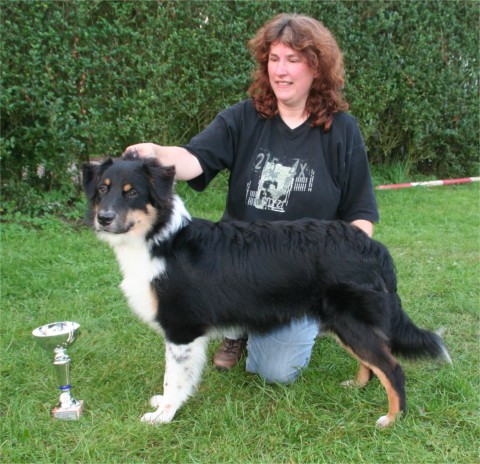 Een grote jongen aan het worden: op de leeftijd van zes maanden tweede in de puppyklas op de clubshow van de Australian Shepherd Club Belgium.

Turning into a big boy: at the age of six month placing second in puppy class at the clubshow of the Australian Shepherd Club Belgium.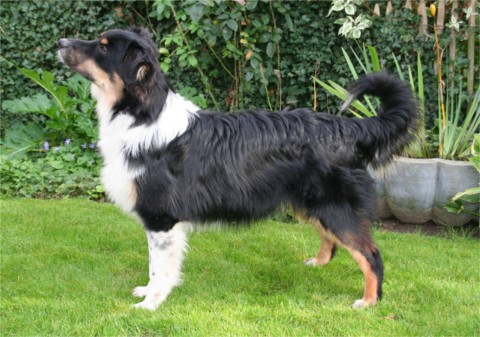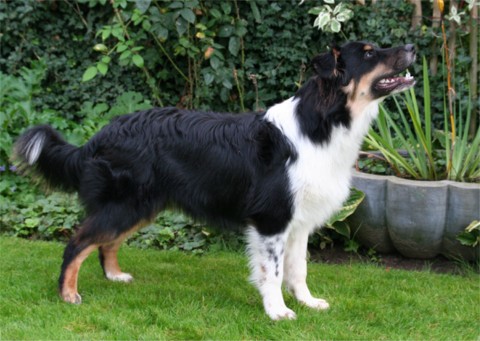 Lappi, 6 maanden oud.

Lappi at 6 months of age.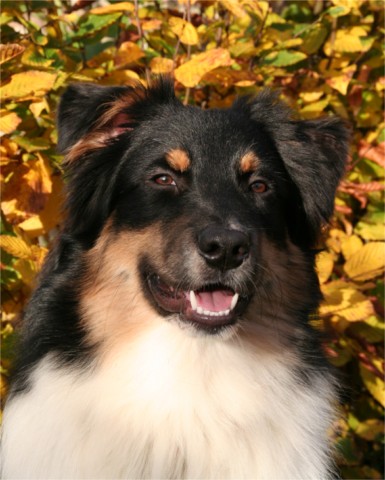 Lappi, bijna acht maanden oud.

Lappi, almost eight months old.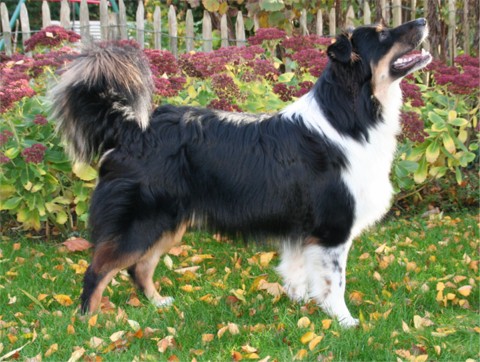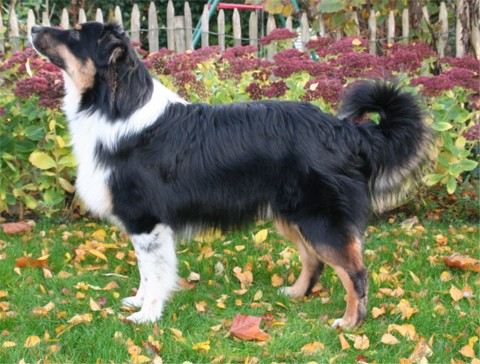 Lappi, bijna acht maanden oud

Lappi, almost eight months of age.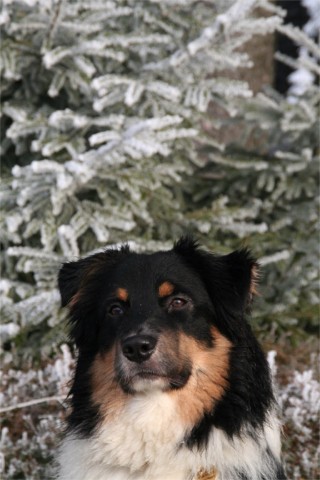 Kopstudie, negen maanden oud.

Head study, nine months old.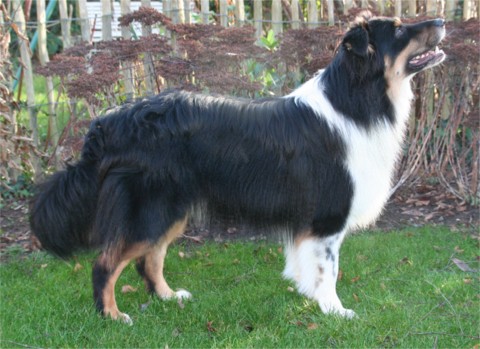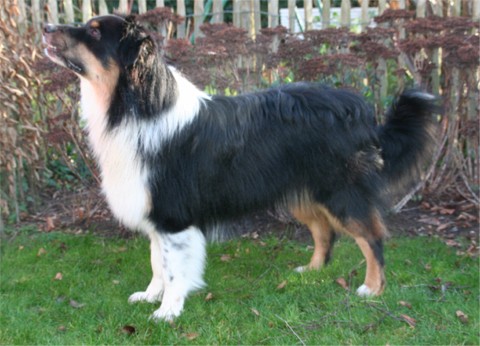 Lappi, bijna tien maanden oud.

Lappi, almost ten months old.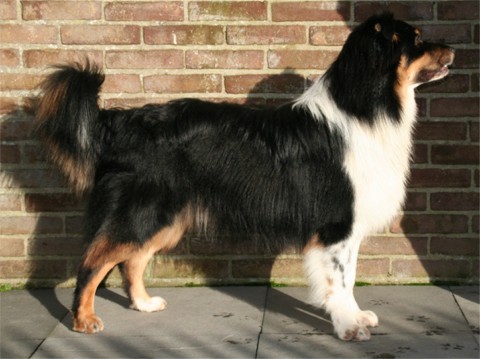 Zelfde dag als hierboven / same day as pics taken above.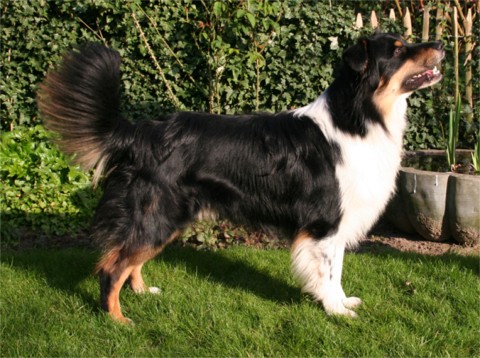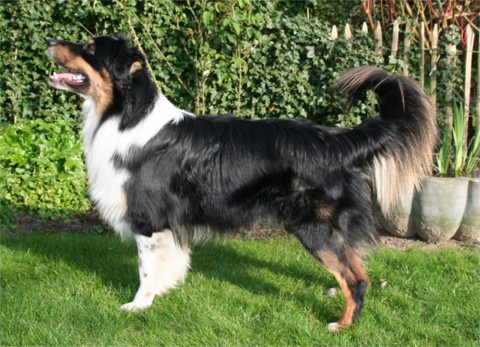 Lappi, twaalf maanden oud.

(...houd je hand eens over je vrolijke zwiepstaart als die je afleidt)

Lappi, twelve months old.

(...keep your hand over his wagging tail in case it distracts you)