The adventure starts...

Friday May 12th 2006 Janine, Beetles breeder, and Judith flew from Amsterdam over Helsinki to Rovaniemi to pick up Lappi in Finnish Lapland at the kennel of his breeder, Ritva Hannuniemi-Pulska of the Vauhtitassun kennel in Kuosku.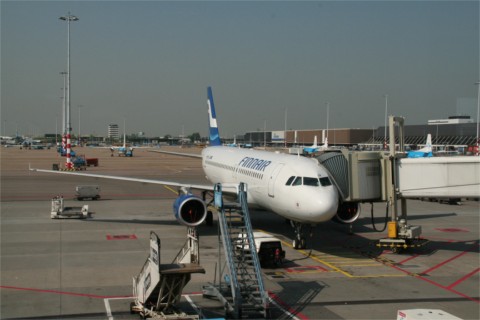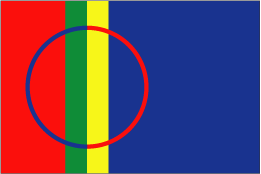 Het Lapland avontuur

  The Lapland adventure

Het avontuur begint...

Vrijdag 12 mei 2006 vlogen Janine, de fokster van Beetle, en Judith vanaf Amsterdam via Helsinki naar Rovaniemi om in Fins Lapland Lappi op te halen bij zijn fokster, Ritva Hannuniemi-Pulska van de Vauhtitassun kennel in Kuosku.

Vliegen met Finnair vanaf Schiphol.

Flying with Finnair from Amsterdam airport.

Aankomst op het vliegveld van Rovaniemi,

de hoofdstad van Fins Lapland.

Dit is de thuisbasis van de kerstman :-)

Arrival at the airport of Rovaniemi, capital of Finnish Lapland.

This is were Santa Claus lives :-)

Nortrek heeft ons geholpen met het regelen van de reis.
Nortrek
helped us arranging the trip.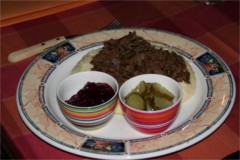 ...en als je in Lapland bent eet je natuurlijk... rendiervlees!

(We hebben ook elandlasagne gegeten)

...when you are in Lappland of course you eat... reindeer meat!

(We also ate moose lasagna)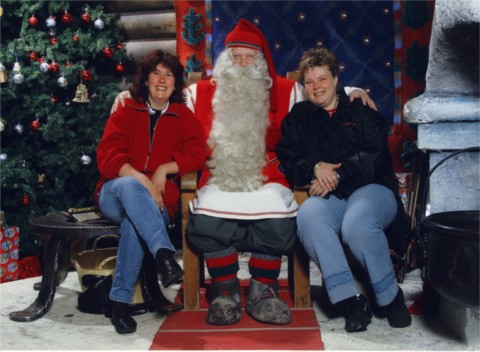 ...en over de poolcirkel te springen!

...and to jump over the arctic circle!

Santa: 'What would you like for Christmas, Judith?'

Judith: 'A Lappi dog, Santa.'

Mét foto's van Lappi, scroll gewoon verder!

With Lappi pictures, just scroll along!


Als je denkt dat Judith gek is...

If you think that Judith is crazy...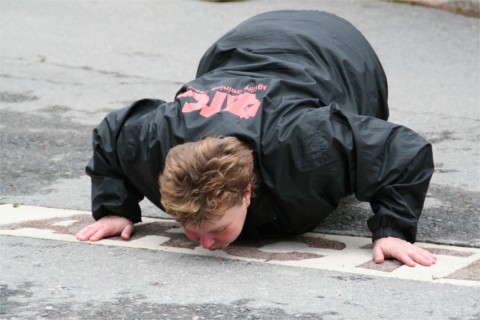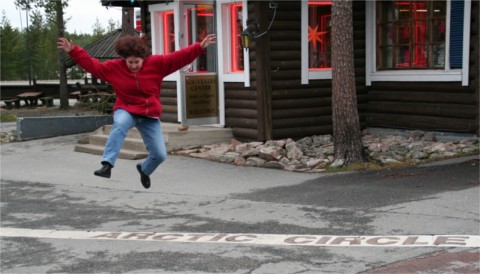 ...Janine kuste zelfs de cirkel!

...Janine even kissed the circle!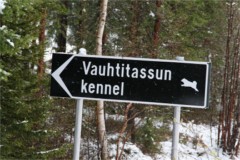 Hier woont Ritva, de fokker van Lappi.

This is where Ritva, Lappi's breeder lives.

Tijd om over te schakelen naar de Vauhtitassun kennel in Kuosku, waar Lappi is geboren. Vauhtitassun betekent in het Fins trouwens 'snelle pootjes'.
Time to go to the
Vauhtitassun kennel
in Kuosko, where Lappi was born. Vauhtitassun, by the way, means in Finnish 'speedy paws'.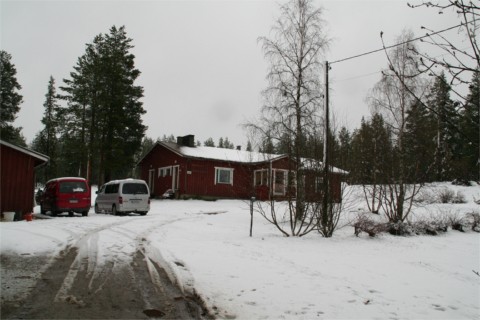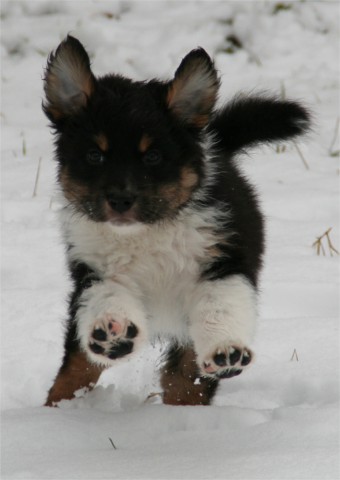 En hier is hij, mister snelle pootjes himself: Lappi!

And here he is, mister speedy paws himself: Lappi!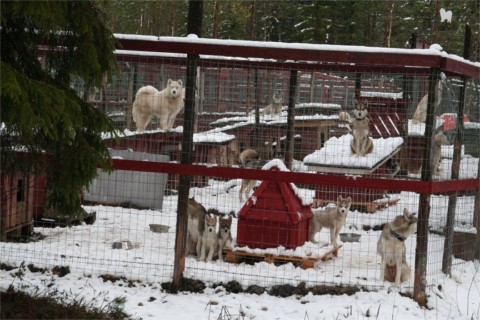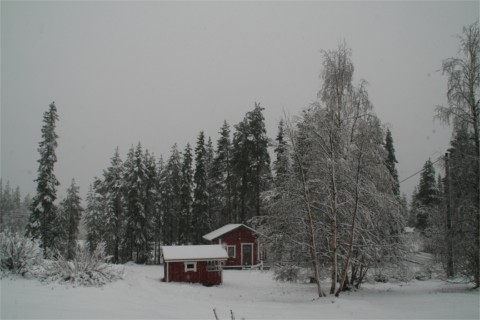 Toen we aankwamen in Kuosku regende het, maar dit is wat we de volgende ochtend vanuit ons slaapkamerraam zagen: sneeuw!

When we arrived in Kuosku it rained, but this was our bedroom view the next morning: snow!

Ritva heeft Husky's en Samojeden voor het sledehondenwerk...

Ritva has Husky's and Samoyeds for sledding...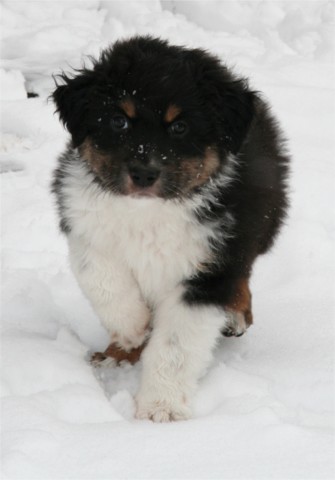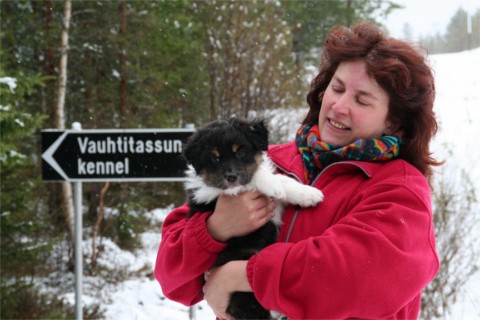 ...Maar natuurlijk kwamen wij voor Lappi :-)

But we of course came for Lappi :-)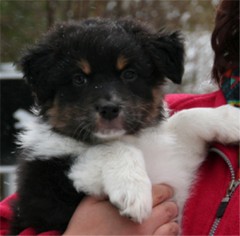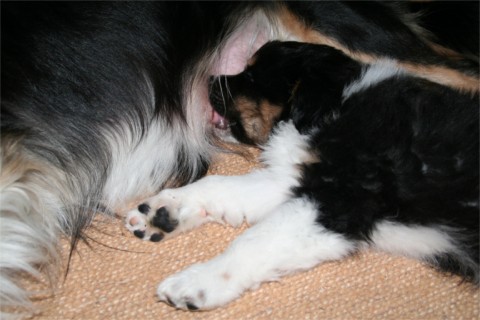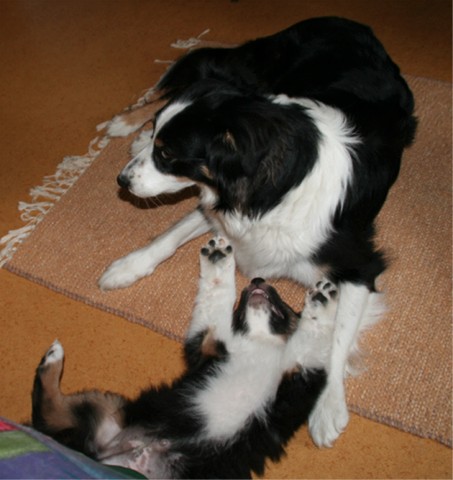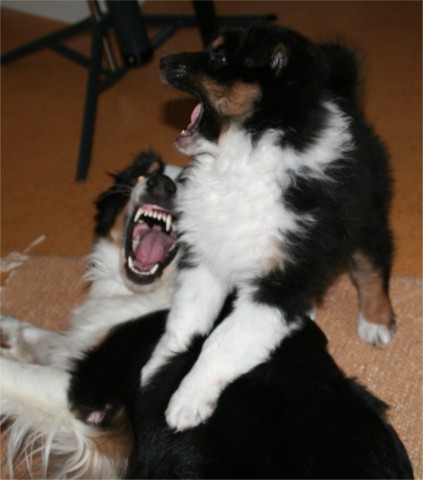 Ritva heeft drie Aussies die allemaal in huis leven.

Ritva has three Aussies that all live in the house.

Lappi, spelend met zijn moeder Dynah. Hoezo, temperamentvol?

Lappi playing with his mum Dynah. Talking about temperament...

Temperamentvol, maar nog steeds een grote baby:

na het spelen nog even drinken bij mama.

Lots of temperament, but still a big baby:

after playtime joining mummy for a drink.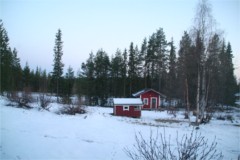 ...dit is hoe 'donker' het was na elf uur 's avonds! Bijna een midzomernacht.

...this is how 'dark' it was after eleven o'clock pm! Almost a midsummer night.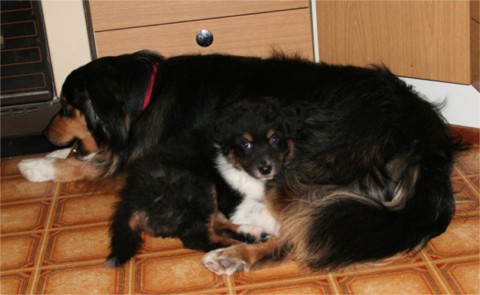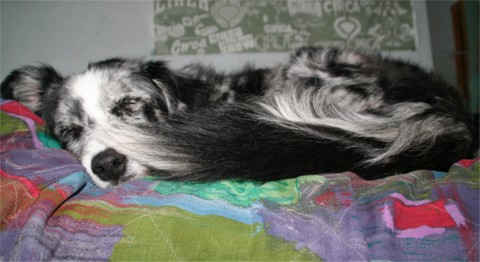 'Aussiegrootmoeder' Fierra.

'Aussiegrandmum' Fierra.

Lappi's grote Aussievriend Gonzo.

Lappi's big Aussiefriend Gonzo.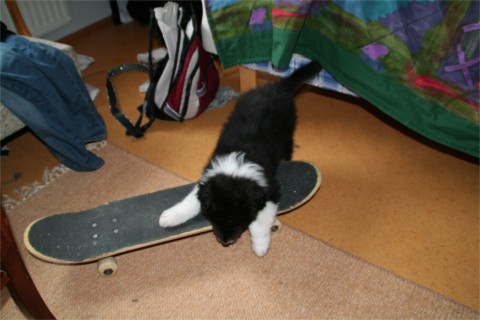 Lappi aan het skateboarden.

Lappi enjoying a game of skateboarding.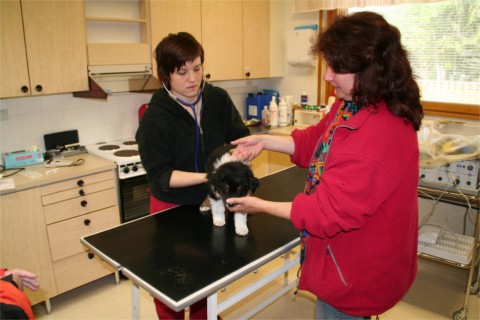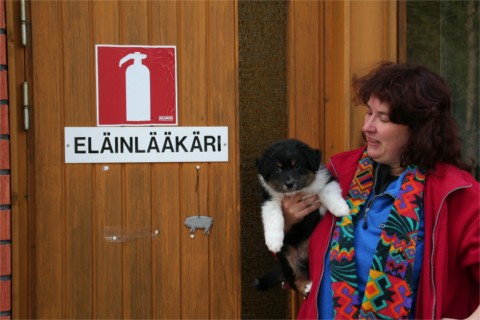 Voor vertrek naar Nederland nog even langs de dierenarts voor een chip, een Europees dierenpaspoort en een gezondheidsverklaring (inderdaad, eläinlääkäri betekent dierenarts!)

Before traveling to the Netherlands we visited the vet for a microchip, a European pet passport and a health certificate (yes, eläinlääkäri means vet!)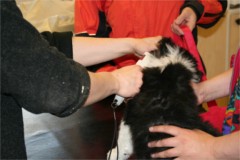 Chip- en gezondheidscontrole.

Chip- and healthcheck.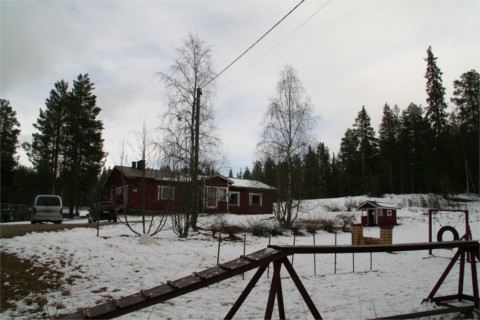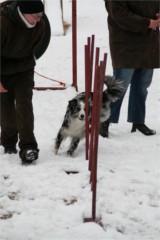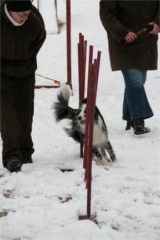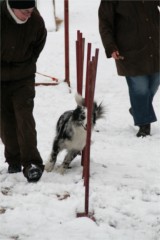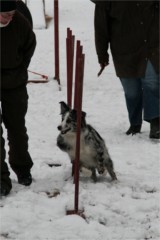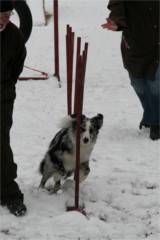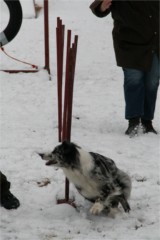 Ritva heeft in haar tuin een behendigheidsparcours...

Ritva has some agility obstacles in her garden...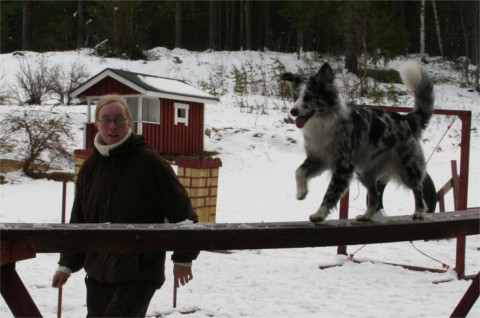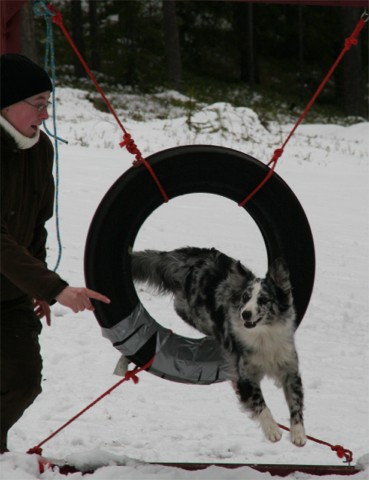 ...zodat Janine een lesje behendigheid kon geven aan een Vauhtitassun-Aussie, een dochter van Fierra.

...so that Janine could give an agility seminar to a Vauhtitassun-Aussie, a daughter of Fierra.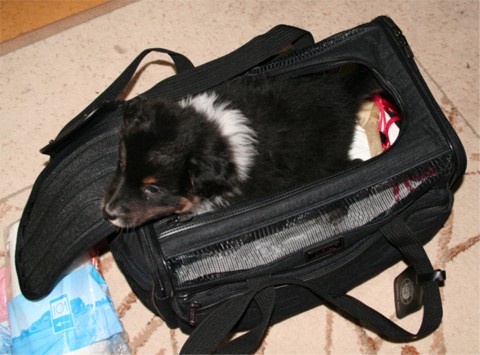 Lappi kreeg onderwijl les hoe je in een reistas past...

In the meantime, Lappi got a lesson how to behave in a Sherpabag...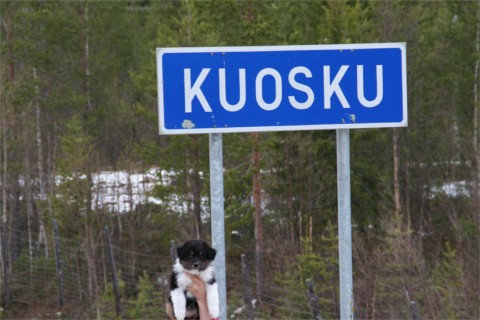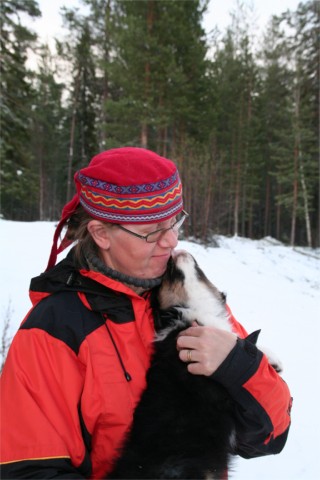 Dan is het tijd geworden om afscheid te nemen van fokker Ritva en geboorteplaats Kuosku...

Then it was time to say goodbye to breeder Ritva and his place of birth, Kuosku...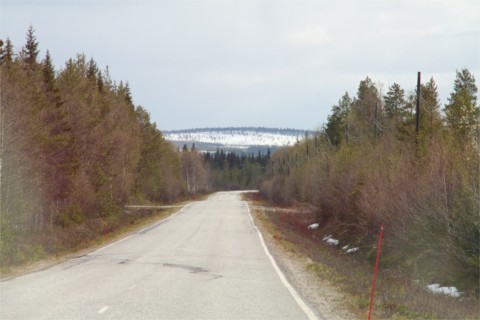 Dag Lapland...

Bye bye Lapland...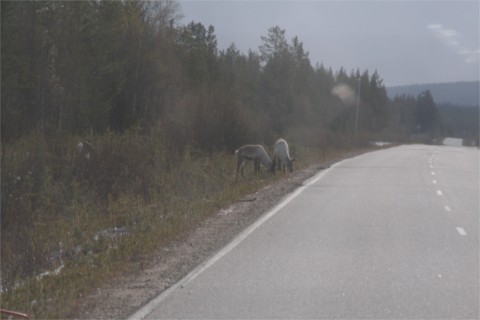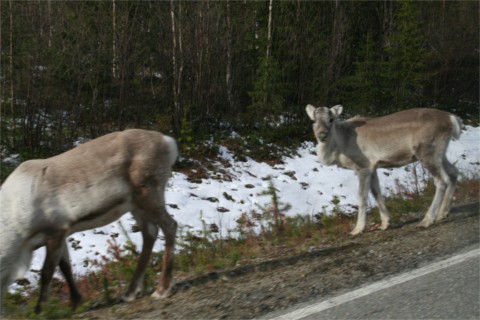 Rendieren langs de weg, gefotografeerd vanuit de auto.

Reindeer on the road, photos taken from the car.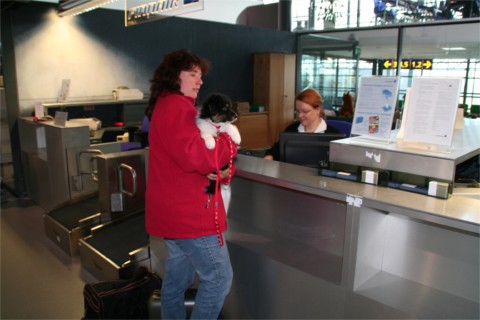 Inchecken bij Finnair op de luchthaven van Rovaniemi.

Boarding with Finnair at Rovaniemi airport.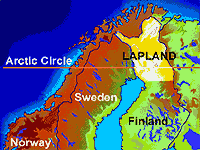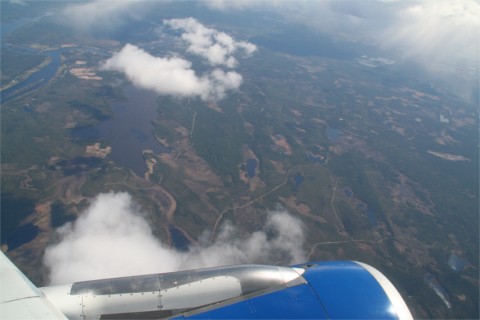 Het land van de duizend meren...

The land of thousand lakes...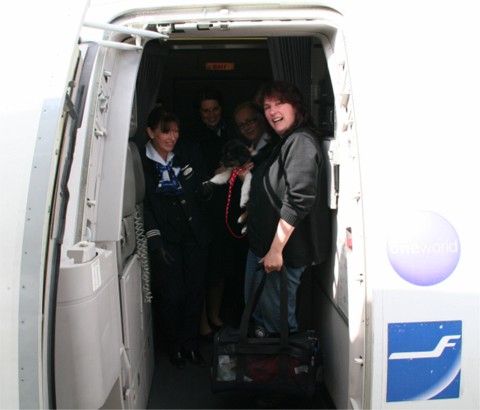 Nog even knuffelen met de stewardessen bij aankomst in Helsinki.

Dag dag, nu ga ik verder naar Amsterdam!

Saying goodbye to the cabin crew in Helsinki.

Bye bye, now I am on my way to Amsterdam!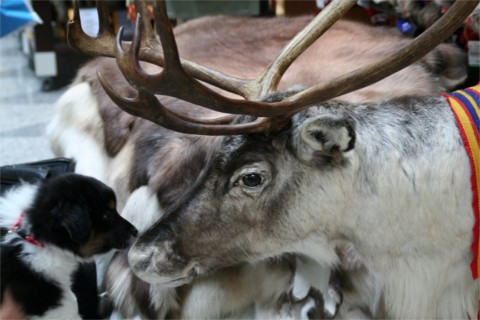 Een laatste rendierkusje op de luchthaven van Helsinki. We hebben een rendiervel voor Lappi gekocht om lekker op weg te kunnen dromen over Lapland. Zijn volledige naam is niet voor niets Lappi Vaibmus - wat betekent dat Lapland altijd in zijn gedachten blijft...

Reindeer kiss at Helsinki airport. We bought a reindeer skin for Lappi to sleep on for some sweet dreams of Lapland. Don' forget his full name is Lappi Vaibmus - meaning that Lappland is always on his mind...



Wist je dat er in Lapland meer rendieren leven dan mensen?

Bevolking: 200.000 (= 2 inwoners per vierkante km)

Rendieren: 208.000

Rendierhouders: 5800 (waaronder Ritva's gezin)

Rendieren gedood door verkeer: 4.000 per jaar

(Voorzichtig rijden!)

Did you know Lapland has more reindeer than humans?

Population: 200.000 (= 2 inhabitants per square km)

Reindeer: 208.000

Reindeer keepers: 5800 (including Ritva's family)

Reindeer killed by traffic: 4.000 each year

(Drive carefully!)