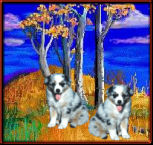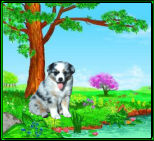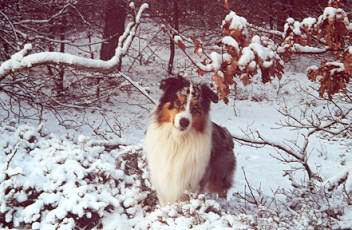 ...Terwijl Scooter zich tijdens de kerstdagen nietsvermoedend vermaakte in de sneeuw tijdens zijn vakantie op de Veluwe besloot Phyrne dat het tijd werd voor wat actie. Phyrne was uitgeteld vanaf 28 december, maar wilde liever kerstkindjes en beviel daarom gewoon drie dagen eerder.

...While Scooter was having a good time in the snow during a short christmas holiday in the Dutch Veluwe region, Phyrne decided it was time for some action. She wasn't due until December 28, but set her mind on x-mas puppies so went into labour three days early.

...Hier zijn ze dan: de pups van Scooter en Phyrne!

Het kerstkroost van 'of Clan Miphydes' werd geboren op 25 december 2000: vijf Aussiejongens, drie blue merle en twee red tri, en drie Aussiemeiden, een black tri, een red tri en een red merle. We willen dit kleurrijke achttal graag op volgorde van geboorte aan u voorstellen:

...here they are: the puppies by Scooter and Phyrne!

The christmas litter 'of Clan Miphydes' was born on December 25th 2000: five Aussieboys, three blue merles and two red tri's, and three Aussiegirls, one black tri, one red tri and one red merle. We would like introduce these colourful eight to you in the order in which they were born: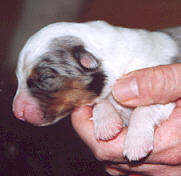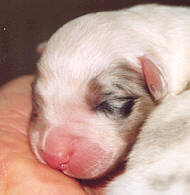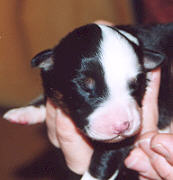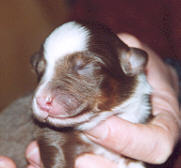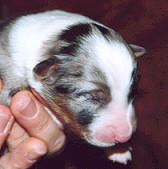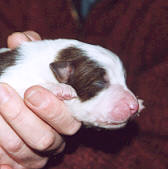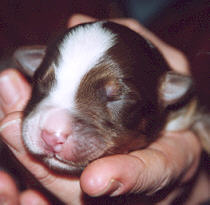 # 3: black tri teef/female

# 8: red merle teef/female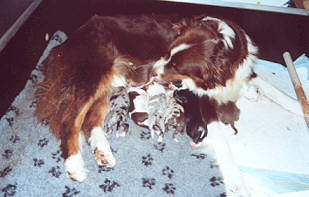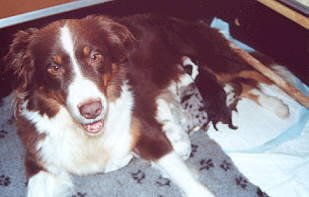 De trotse moeder met haar een dag oude pups/proud mom with her one day old puppies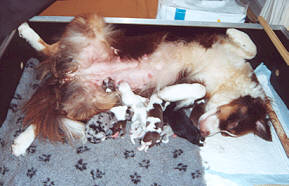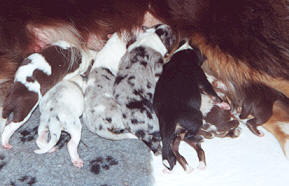 Zoals je kunt zien zitten er drie pups met een wit vlekkenpatroon in het nest (twee blue merle reuen en een red tri teef) die te volgens de rasstandaard te veel wit hebben. Deze Aussies zijn niet geschikt voor de show en de fok, maar we verwachten dat ze kunnen opgroeien tot heerlijke huis- en sporthonden.

As you can see there are three pattern white pups (two blue merle males and one red tri female) in the litter that have too much white according to the breed standard. These Aussies can not be used for show or breeding but we expect them to be great companions and competitors in canine sports.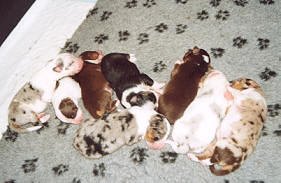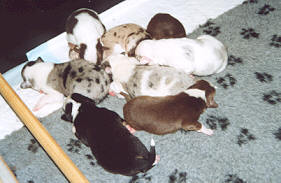 De pups op 30 december, vijf dagen oud/The puppies on December 30th, five days old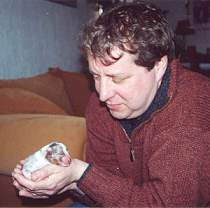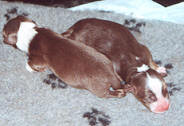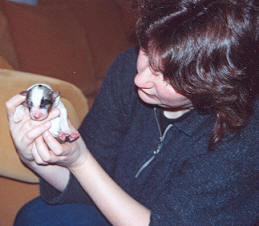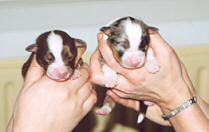 De red tri broertjes/the red tri brothers # 4 en/and # 7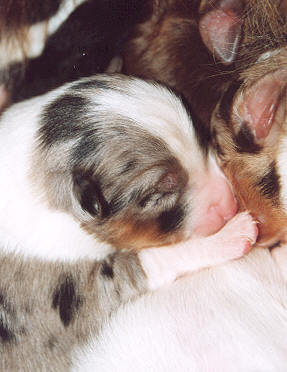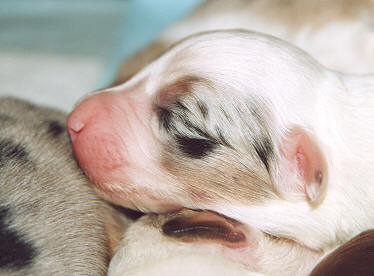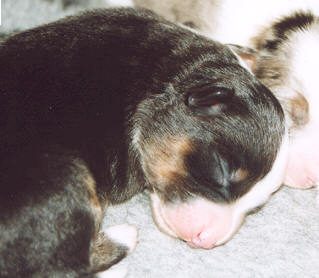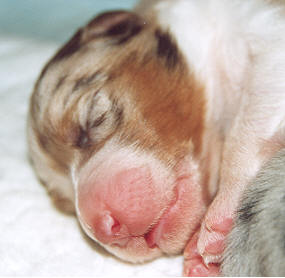 Sssst! Wij zijn bezig om uit te groeien tot geweldige Aussies!

Ssssh! We are busy with growing up into wonderful Aussies!