In de zomer van 2005 zijn Scooter and Beetle wezen kamperen in de Perigord Noir, een deel van de Franse Dordogne.

During the summer of 2005, Scooter and Beetle went camping in the Perigord Noir, part of the French Dordogne region.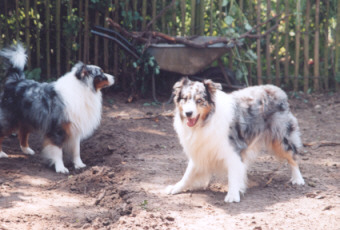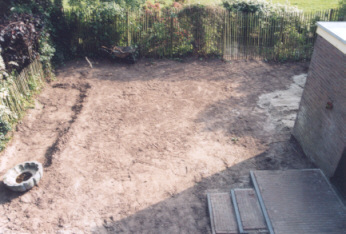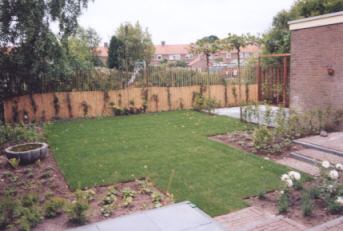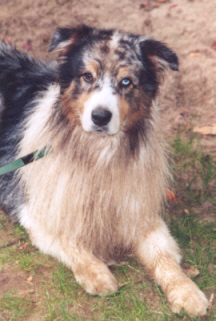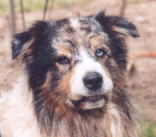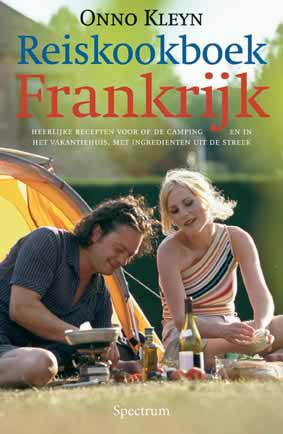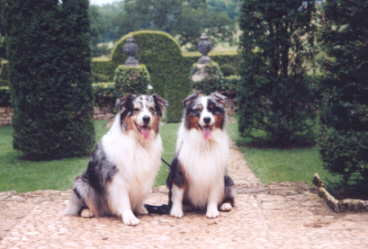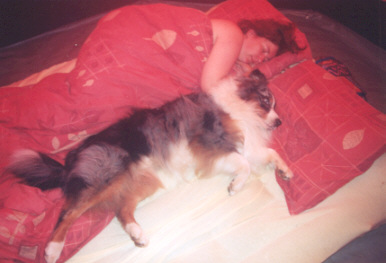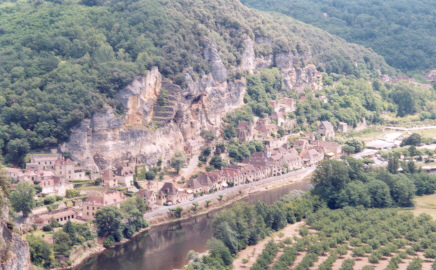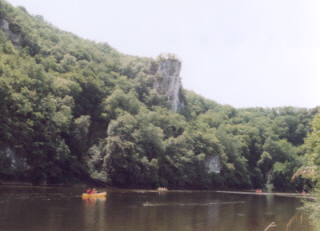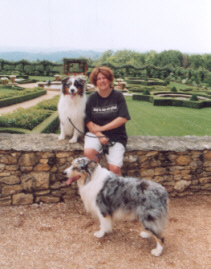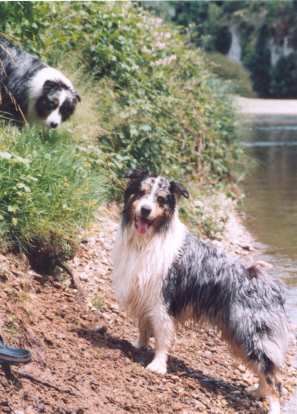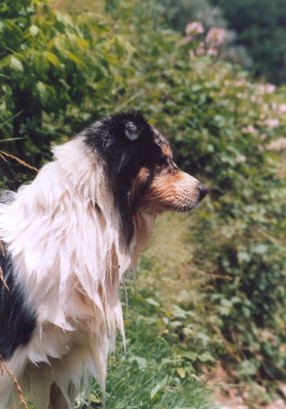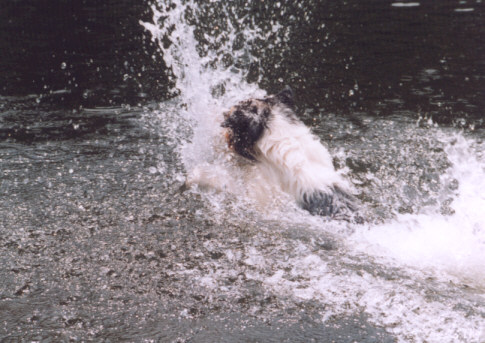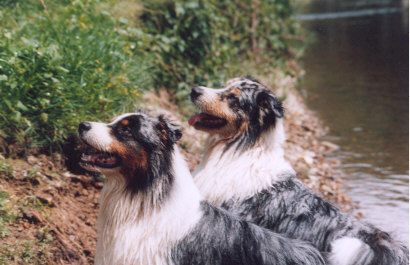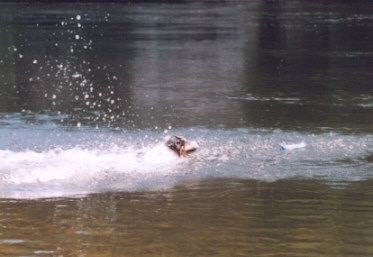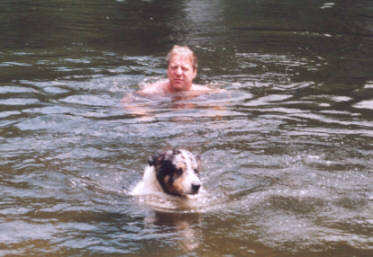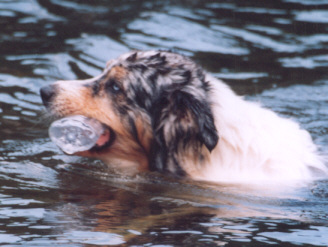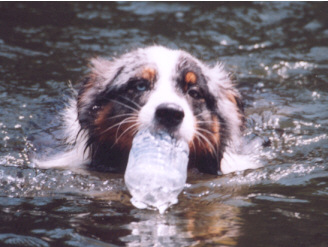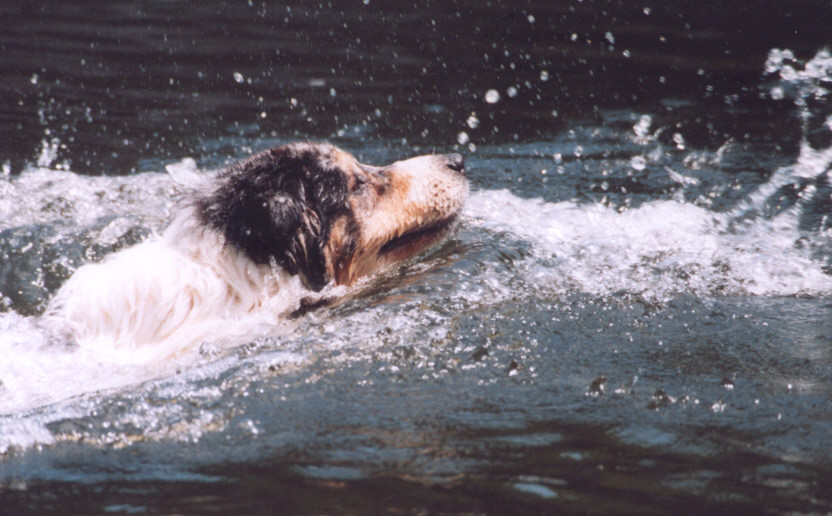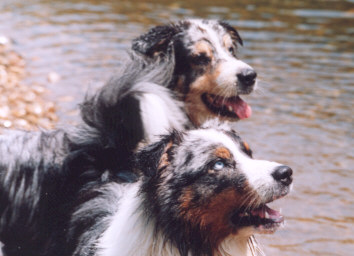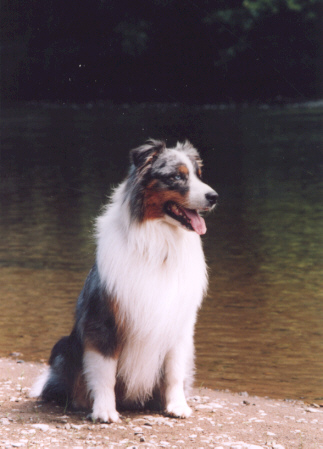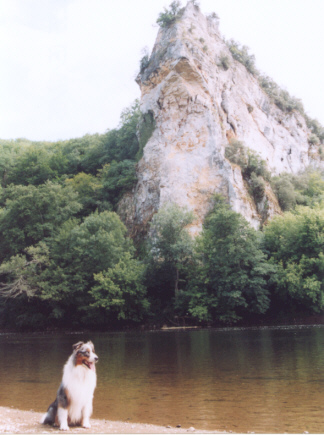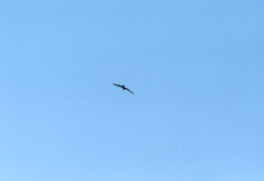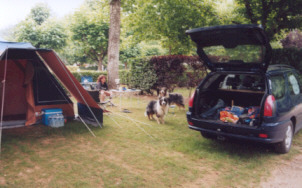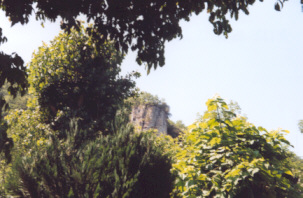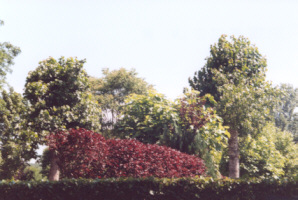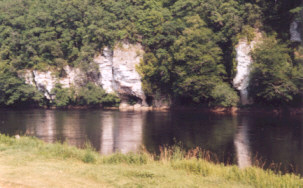 Beetle bij de rivier Dordogne.

Beetle posing next to the river Dordogne.

We zaten op camping Soleil Plage in Vitrac vlakbij La Roque-Gageac, een van de 'plus beaux villages de France' (mooiste dorpen van Frankrijk).
We stayed at the
Soleil Plage campsite
in Vitrac near La Roque-Gageac, one of the 'plus beaux villages de France' (most beautiful village of France).
gezicht vanaf de voorkant van de tent

view from the front of our tent

roofvogels boven ons hoofd

birds of prey above our heads

gezicht vanaf de achterkant van de tent

view from the back of our tent

...en we stonden op een steenworp afstand van de rivier!

...and very close to the Dordogne river!

klik op het boek voor meer info

click the book for more info

Voor het eerst ongekende luxe tijdens onze kampeervakantie: een heuse 'camping kitchen' met twee gaspitten en een grillplaat! We hebben met heel veel plezier gekookt uit het Reiskookboek Frankrijk: basic maar erg lekker.

For the first time we had a lot of luxury during our camping holiday: a real 'camping kitchen' with two gas burners and a grill! We had a lot of fun cooking receipes out of the Travelcookbook France: basic, but very nice.

met een speciaal plankje voor het glas rose...

with a special shelf for the glass of rose wine...

Dit was voor de Aussies het hoogtepunt van iedere dag: een duik in de Dordogne.

This was the highlight of the day for the Aussies: a dive in the Dordogne river.

Omdat speeltjes snel wegdrijven door de stroming, gebruikten we lege plastic flesjes als apporteermateriaal.

Because toys easily float away in the riverstream, we used empty plastic bottles for the dogs to retrieve.

Walter en Scooter aan het wedstrijdzwemmen.

Hé Scooter, wacht op mij!

Walter and Scooter in swimming competition.

Hey Scooter, wait for me!

Inderdaad, dezelfde rots als we vanuit onze tent zagen.

Yes, this is the same rock as we saw from our tent.

Beetle demonstreert de babyflesjes-apporteerstijl.

Beetle demonstrates the babybottle-style of retrieve.

Scooter in zijn element.

Scooter having the time of his life.

Beetle blaft: kom op, gooien die fles!

Beetle barking: come on, throw that bottle again!

Druipaussie.

This is what you call soaking wet...

Als je lekker schoon uit het water komt...

When you come out of the water crisp and clean...

...moet je natuurlijk eerst een zandbad nemen. En dan zie je er zo uit...

...of course the first thing you do as an Aussie is roll in the dirt. And then you look like this...

Show- én Zandkampioen

Conformation ánd Sand Champion

En natuurlijk slapen die smerige Aussies 's nachts gewoon lekker bij je op het luchtbed.

And of course you don't mind sharing your air bed with those smelly Aussies at night.

Die belangstelling voor tuinen had een reden: thuis stond de tuin deze zomer namelijk behoorlijk op zijn kop. We hadden besloten van de Aussiejungle en onkruidverzameling een echte tuin te maken.

There was a reason for our interest in gardens: our garden at home underwent an extreme make-over this summer. We decided that it was time to change our Aussiejungle and weed collection into a real garden.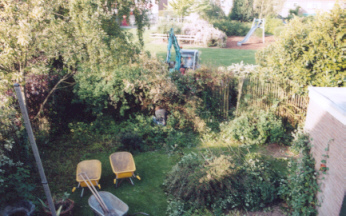 Begin van de onkruidoorlog.

Start of the weed war.

Een paar uur later zag het er zo uit.

A few hours later the garden looked like this.

Scooter: Ik vind dit maanlandschap wel leuk!

Scooter says: Hey! I like this lunar landscape!

Na een paar dagen hard werken...

After a few days of hard work...

...hebben we nu een hele, hele, hele keurige tuin waarin alles nog eh... een beetje moet groeien. Maar het duurt niet lang meer of de grasmat is weer stevig genoeg voor een patijtje Aussiejudo!

...we now have a very, very, very sophisticated garden in which everything still has to grow. But it won't take long before the grass is strong enough again for some rough and tumble Aussie play!

...een laatste foto van Beetle aan de waterkant. Uitkijkend naar een volgende heerlijke vakantie!

...just one more holiday picture of Beetle near the river. On the look-out for another wonderful holiday!


Dag Dordogne...

Bye bye Dordogne...