Nog een Belgisch gehoorzaamheidsavontuur!

Another Belgian obedience adventure!

Op 23 september 2006 deed Beetle tijdens de clubshow van de Australian Shepherd Club Belgium weer mee aan het Belgische gehoorzaamheidsprogramma. Dachten we dat het niet gekker kon met de oefeningen... jawel hoor! Na afloop van de wedstrijd maakten we wat foto's om te laten zien voor wat voor verrassingen je allemaal kan komen te staan.

On September 23 2006, Beetle again took part in the Belgian obedience competition during the clubshow of the Australian Shepherd Club Belgium. We thought it could not get funnier than what we encountered during the first years but guess what... it got even better! :-) Afther the trial we made some pictures to show what kind of surprises can be waiting for you...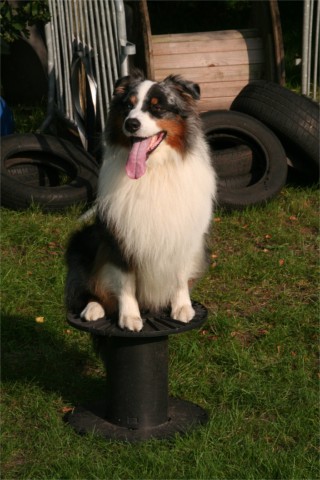 Bij het onderdeel onderbreking moesten we de hond ditmaal zittend op een dergelijke haspel achterlaten. Vervolgens moest je over een heuveltje weglopen, je omdraaien en de hond roepen. De hond moest ook over het heuveltje naar je toekomen, zo niet, dan leverde dat strafpunten op. Na het heuveltje moest je de hond tussen vier autobanden af laten liggen, om hem vervolgens na enige tijd weer voor te roepen. Beetle bleef keurig op de haspel zitten, maar liep langs het heuveltje. Tussen de autobanden afliggen lukte weer wel.

During the interruption exercise we had to leave the dogs in a sit stay on an object like this. Then we had to walk over a little hill, turn around and call our dog. The dog was supposed to come to you using the hill too, if not, points were deducted. After the hill you had to down your dog in between four car tires and wait some time before you could call him again. Beetle did his sit stay on the object very well, but did not run over the hill. He did manage however to go down between the four car tires.

Beetle had de meeste oefeningen nog nooit eerder gedaan en we eindigden dan ook met een dramatische 33 van de totaal 100 punten. Maar we hebben weer erg veel plezier gehad en vonden het erg leuk dat we als stomme Ollander weer hebben mogen proeven van die leuke Belgische G&G!

Most exercises were completely new for Beetle so we ended with a dramatic score of 33 out of a total of 100 points. But we did have a lot of fun and were very happy that the stupid Dutch could get another taste of that cool Belgian obedience program!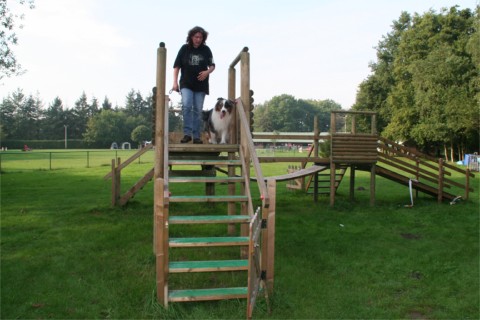 No, this is not a childrens playground, this is the property of the KV Brabo dog training club near Antwerpen. Since our former visit they built a very interesting wooden obstacle for dog and handler. During the heel exercise we had to climb the stairs up and down (and don't forget to open the gate yourself)

Nee, dit is geen kinderspeeltuin, dit is gewoon het trainingsterrein van de KV Brabo bij Antwerpen waar ze sinds ons vorige bezoek een prachtig houten toestel voor baas en hond hadden neergezet. Tijdens de volgoefeningen moesten we trap op en trap af (ook even zelf het hekje opendoen!)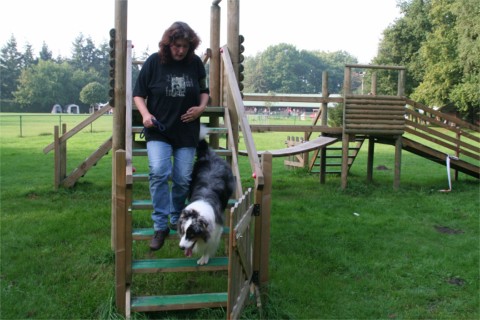 Beetle: Oops Judith, after you of course, after you...

Beetle: Oeps Judith, na jou natuurlijk, na jou...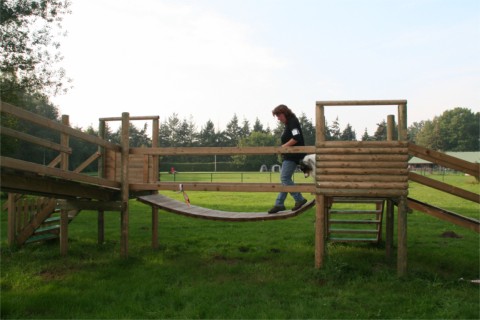 Wiebelbrug. Zat niet in ons programma, maar we hebben hem wel even voorzichtig geprobeerd.

Sway bridge. Not included in our program, but afterwards we carefully tried it.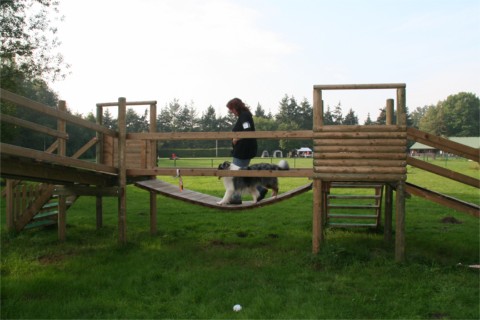 Kijk uit waar je loopt, Beetle!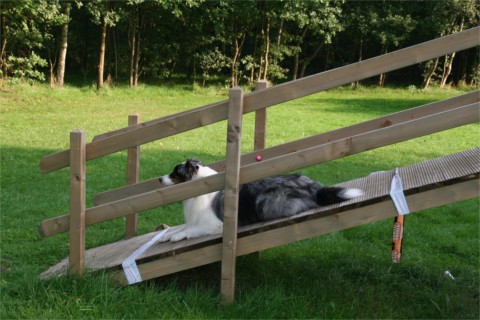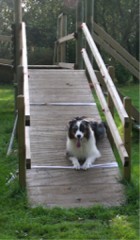 Tijdens de twee minuten af blijf moest je de hond op dit schuine deel van het toestel neerleggen. Beetle lag iets té schuin en gleed naar beneden.

During the two minute down stay you had to leave your dog on this sloping part of the obstacle. For Beetle, it turned out a bit too sloping...

Beetle: help, ik glij weg!

Beetle: help, i'm sliding!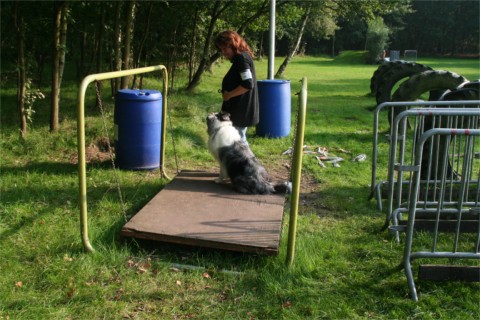 Startpositie tijdens het aangelijnd volgen: je hond moest op dit wiebelding plaatsnemen. Het was moeilijk voor Beetle om stil te blijven zitten! Daarna met een rechtsomkeert aan het volgparcours beginnen.

Start position during the heal on leash: your dog had to sit on this wobbly thing. It was hard for Beetle to balance and sit still! Then you had to make an about turn to start heeling.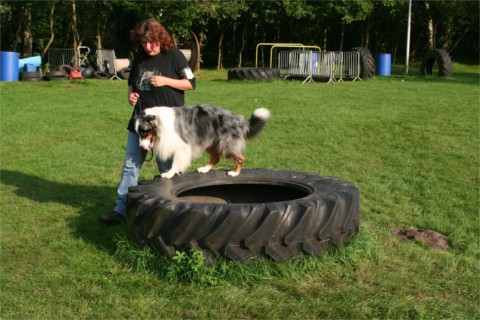 Tijdens het volgen moest je een ronde langs een grote band maken met daarbij de hond volgend óp de band. Beetle vond het reuze spannend.

During the heeling you had to turn around this big tire, with the dog following you walking ON the tire. Beetle found it very exiting.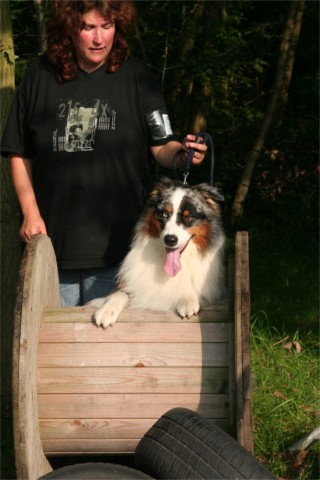 Tijdens het volgen was het verder de bedoeling dat de hond over deze grote houten haspel meeliep.

While heeling your dog also had to climb/heel over this large wooden spool.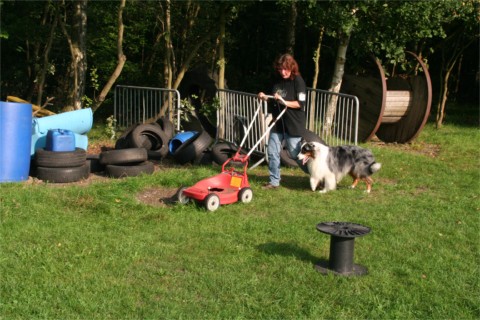 And now things gets really weird: during our heeling pattern we had to pick up a lawn mower!

Het moet niet veel gekker worden: tijdens het volgparcours moesten we een grasmaaier oppikken!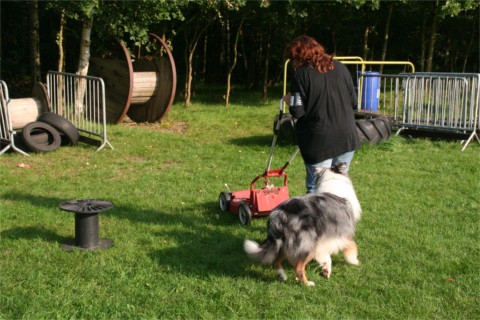 Beetle vindt het maar raar - hij ziet altijd Walter achter de grasmaaier, nooit mij :-))

Beetle finds it all very, very strange - he is used to see Walter behind the lawn mower, not me :-))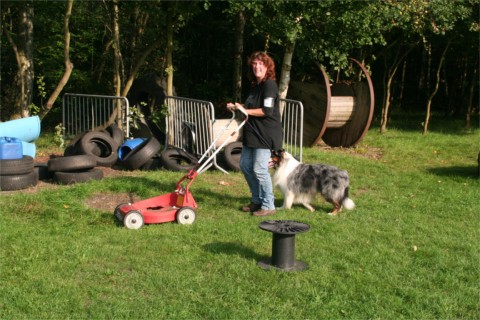 Judith: nou, achter de kinderwagen had ik toch ook niet misstaan? (Beetle: geen sprake van!!)

Judith: well, wouldn't I have looked as good behind a baby buggy?

(Beetle: no way!!)