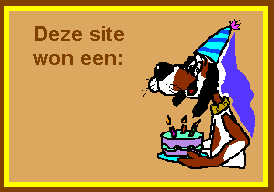 Scooter and Friends

kreeg de volgende awards:

Scooter and Friends has won the following awards: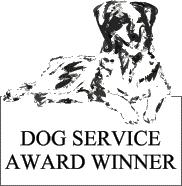 Scooter and Friends is opgenomen bij de Cool Canine Sites op WorkingDogWeb.com in de categorie 'All-Around & Cool', een categorie voor sites met een aantrekkelijk design, een inhoud die de moeite waard is en een kwaliteit die speciaal genoeg is voor een aparte vermelding. De beoordeling: Scooter and Friends: Vivid photos of Australian Shepherd Scooter in frisbee, with puzzle toys, plus Aussie links, more. In Dutch. 11/00




Scooter and Friends kreeg niet een, maar liefst twee awards van de Canadese site Tails a Waggin'.  De beoordeling: "We just finished viewing your website and it is absolutely fantastic...we have decided to not only give you our 'Award of Excellence' but we feel that you also deserve 'Ditto's Cool Site Award' - she loves lookin' through GRRREAT dog pages."